This Weekend had many things happening around. WordCamp Bhopal and ViaLux Anomaly in Mumbai were on the same day 24th Sept 2016. I was supporting offline to my team in my Second Ingress Anomaly. The result is here Mumbai is Blue.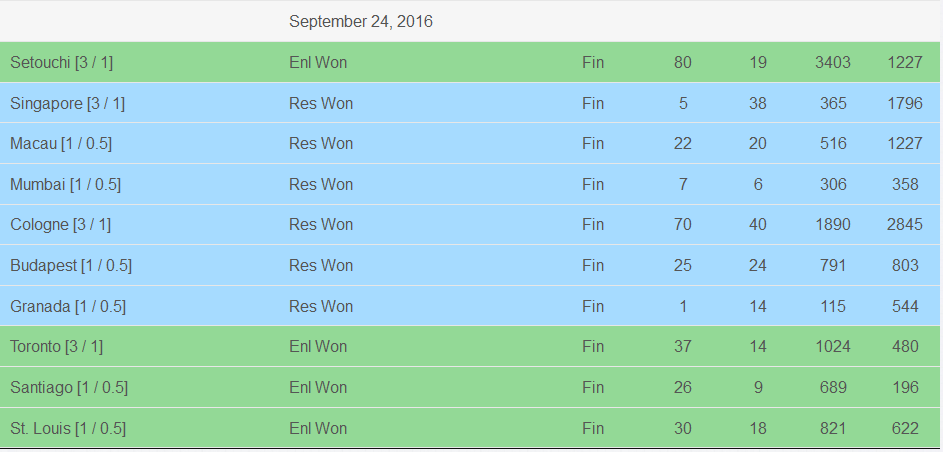 For detail, here's the Mumbai scorecard.
WordCamp Bhopal was my first WordCamp in Central India. All camps those I attended were in West Part of India. (I missed Jabalpur and Delhi). Despite living in Nagpur(Center of India), I've never been to Bhopal. I hardly discover the Madhya Pradesh. WordCamp Bhopal and #WWWP5k was a great plan to explore the unknown city.
Train Journey Begin around 1 PM. I reached Bhopal by 7.30 PM.  Mobile Networking took me some time to figure out that Vodafone Calling is working fine and Airtel's Internet is working in Bhopal. It seems mobile network is some big-time issue in Capital of Madhya Pradesh.
The initial plan for #wwwP5k walking in Lake Capital Bhopal was to complete Bhopal Religious mission and some Portal upgrades in Bhopal with @Maximus175. Due to some medical emergency, he was not available, so aborted the Mission, just upgraded portals. After upgrading Portals, I joined Milesweb Team at Lake Side Ashoka's Thus the Urban Socialite at Bada Talab.
Lovely Food at beautiful Location, We talked about city & community activities.
Day 2 Bhopal.
Day Started little late at 7.30, so we rushed toward the WC Venue.
Bheed bhad outside the venue #WCBhopal pic.twitter.com/lY1QEcaOMn

— Saurabh (@actual_saurabh) September 24, 2016
Skipping the Bheed Bhad Joined the WordPress India Community people for Chai Pani.
Chai Nashta time at #WCBhopal pic.twitter.com/oF5q99zCZO

— Puneet Sahalot (@psahalot) September 24, 2016
The day was great filled with Talks From Puneet, Alex, Aditya, Rahul, Nirav, Swapnil, Amit, Saurabh.
Rahul shared how his team solves the Vicious circle. Good to know how rtCamp managed it.
#WCBhopal the vicious circle! pic.twitter.com/CQUvMkoQwH

— Puneet Sahalot (@psahalot) September 24, 2016
Apart from talks, it was a great pleasure meeting people from SwiftIdeas, InkThemes, ThemeIsle. Various Conversation about themes, development strategies continued throughout the day.
I was disappointed to know students at LNCT do not know that "Nagpur was Capital of Madhya Pradesh". 🙁
Nagpur has its charm. At the end of day Announcement from LNCT College was the Great. An official Meetup Place in Bhopal.
#WCBhopal #wordcamp #wc #jaiwordpress inauguration of wordpress community centernat lnct collge bhopal pic.twitter.com/e3n6JMhd7d

— Prathamesh Palve (@palvepratham) September 24, 2016
Overall WCBhopal was a great day spent. Meanwhile, Amit and I were monitoring ViaLux Activities in Intel Map & Telegram. We enjoyed the winning moment.
I started my return journey, with Chattisgarh Express at 7 PM with some Delhi University geology students visiting MP for Educational Tour. I was surprised to see their knowledge about wildlife. Conversion continued the late night. Reached Nagpur By 3 AM. This was the Time I started with my #WWWP5K Walk playing Ingress from Station to Famous Zero Mile Stone of India, so no photos of #WWWP5K Walk.
Aditya Picked me up From Zero Mile, we had some next week planning on Jalebi Poha at Shankar Nagar and ended into Bed.
I'm still exchanging thoughts with new connects from Bhopal, I look forward to meeting them in WordCamp Nashik
Dear Attendees of #WCBhopal, the next #WordCamp at #WCNashik will be waiting for you. #LetsMeetAgain #winelover #Nashik pic.twitter.com/NZGH4giJ5o

— WordCamp Nashik 2019 (@wcnashik) September 24, 2016