I know I'm posting after decades, these are some of my life events need to be logged on my blog.
15 June 2013, Morning 5.30 Alone I Started my journeys towards Pune, 800Km drive in one day was the Objective with no idea of upcoming hurdles. hardly I've crossed Butibori Industrial Estate, heavy rain washed me out, Luckily I'd packed my baggage nicely(usually i don't). You can visualize what kind of heavy rain it was in Nagpur that day, same evening Cities prime area was flooded. Video here
Intentionally I decided to use state highway as National Highways has heavy rush. Decision was not wrong but I underestimated the power of wind as Dhamangaon to Malegaon is fully open agricultural land. I couldn't drive my Pulsor 150 above 50Km/hr.
Here's route i drove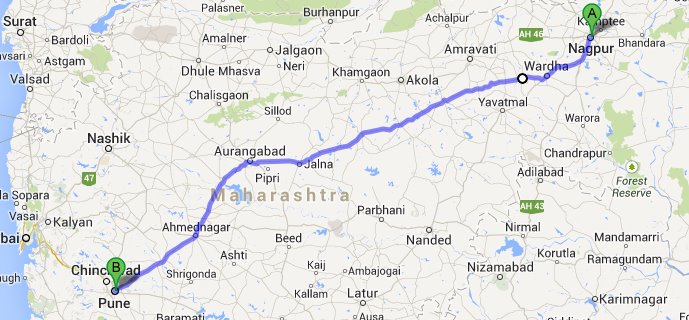 There are lots of places to enjoy your journey.
Kelzhar – Lord Ganesh Temple on hill, first stop you can have on 40 Km from Nagpur.
Wardha Bypass Route – nice scenary at Mahatma Gandhi Antarrashtriya Hindi Vishwavidyalaya (80Km From Nagpur)
Pulgaon – nothing much except ordnance factory & farms (couple more 30-40 km from wardha)
Dhamangaon – This town is known for railway station in this area, you can find nice Chai & kachori (20 Km from Pulgaon)
Karanja lad – religious old city, birth place of Nrusiha Saraswati, truely devine if you can catchup with Maha Prasad at Guru Mandir. Unfortunately I reached Karanja at 10.30 AM, Not good time for Lunch. (80Km from Dhamangaon). this town does make you feel you are back in Maratha Era.
Malegaon – more over industrial market place, refuel your engines 😛 (60 Km From Karanja Lad)
Mehkar – place with Famous Balaji Temple and Haunted Palace – Kanachani cha Mahal (not sure, but locals keep saying avoid that place). Also place has some British Construction to view. (60 Km from Malegaon)
Sindhkhed Raja – Home town of Jijau (JijaBai) – Mother of Chatrapati Shivaji Maharaj, fort and Monuments in this city are truely amazing and really well maintained. (40 Km from Mehkar)
Jalna – Big city you reach after Nagpur Crossing around 400+ km in greenery,
Rest 300 km route is all national Highway passing through Aurangabad, Devgad, Pravara Sangam, Ahmednagar, Shirur, Ranjangaon.
Over all it was Great experience Riding 800+ KM Alone in a Single Rainy day. Food at Dhabha's & talks with Chaiwalas It refreshed me from my daily work schedule.