Sounds weird?
Ever heard or read like १ सौर चैत्र शके १९३२???
It's Solar Calendar system that was approved in 1956 by India's First Prime Minister Pandit Jawaharlal Nehru. It's used in day-today activity, listen your FM, Doordarshan carefully dates are still mentioned in same format along with Western Calendar (Gregorian Calendar).
How about using Indian Solar calendar in your windows system?
Get it Downloaded from Shrii Softwares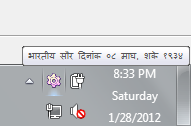 Nice Application by Mr. Mandar Bartakke, Just an taskbar icon, on hover you get date, can have more usability. But yes its too good to have it on Desk.
Supported on : Windows with .net Framework 2.0
Must Give a try.