Yes finaly i am using some flavoured linux. I tried Ubuntu and Kubuntu and Granular Linux. Since I joined new Company,I am getting new jerks like this one. My office system is having Knoppix installed. well the basic reason behind it was I am working on Linux platform so before my joining. my colleage Vaibhav had made a system available for me and instructed an Hardware person to installed an Linux Flavour. I used Live CDs Alot but this time i am working on Knoppix on the Hard drive. Its not pretty hard to start up once if you have used any of Linux flavour. better used linux training material from Official knoppix site. its worth to start.
heres snapshot of the desktop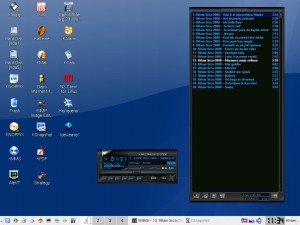 Hope i could learn more stuffs from the Knoppix forums.