Google launched Chrome Day before yesterday, Looks are fine, Gears make the Speed great yet this is week 1 of chrome in Market so many more things are yet to come. currently no long list of feature is present but whatever is there is nice. first thing what i tried on chrome was about:config ,General configuration panel for browser. well Blank page remain there. so config panel remain hidden yet. but few tricks like about:memory gives you the task manager in chrome showing tasks in Chrome.
about:network
Shows many reports about your connected network. Which site is being accessed and many others
about:plugins
Some thing called plugin, An additional utility to browser like ActiveX Plug-ins, Google Gears 0.4.17.0,BitCometAgent , Microsoft Office 2003, Google Update etc are there.
about:version
Words suggests its all about Chrome version we have on our set.
What I get
Google Chrome
0.2.149.27 (1583)
Official Build
Google Inc.
Copyright © 2006-2008 Google Inc. All Rights Reserved.
Mozilla/5.0 (Windows; U; Windows NT 5.1; en-US) AppleWebKit/525.13 (KHTML, like Gecko) Chrome/0.2.149.27 Safari/525.13
about:stats
Must be some statistics ?? But its secret.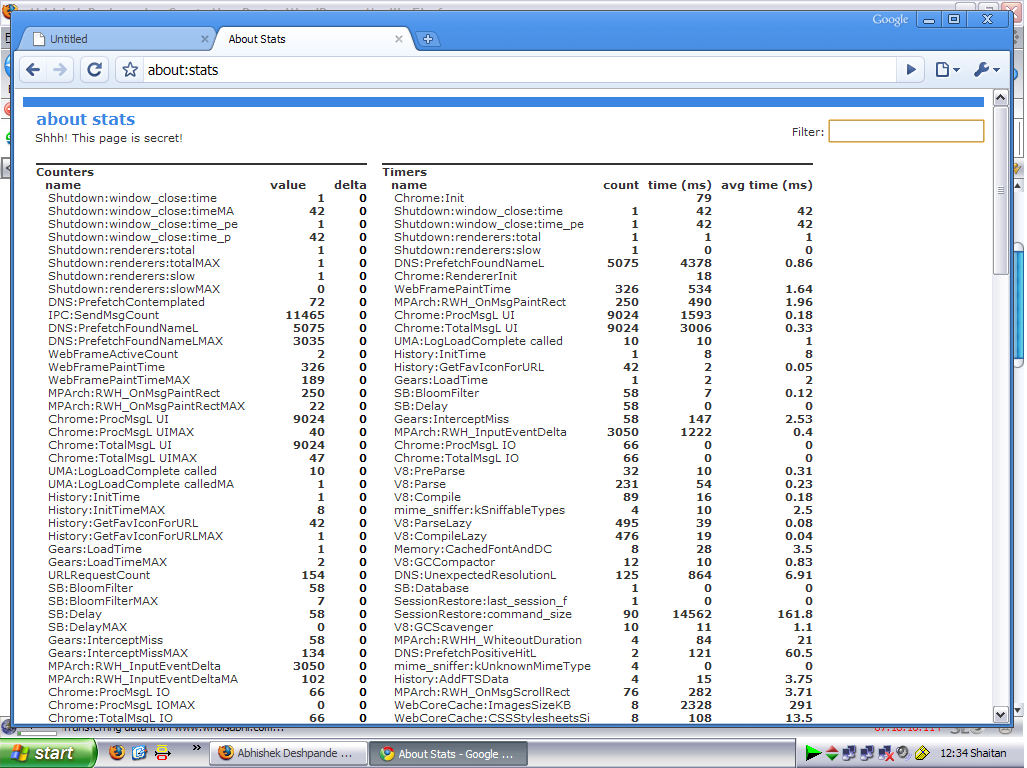 about:cache :
Really lovely stuff I like, Show all the cache stuff links over here !!
That's all yet I found, waiting for Google Chrome's Official blog to launch. hope we get more info about this upcoming browser !!