After Cruel end of my Nokia 3230 , I planned for Iphone few months back, but poor strategy of Iphone in Indian Market made it to loose the market. very high price(31k Rs or $750 ) of Iphone and poor features diverted my mind back to other. I was using Motorola C140,this Basic level handset made me away from Moto Brand, its  Hardware was so cheap, hardly a talk of 15 minute is enough to give you headache. Now I can yell "Don't use Moto" I have a nokia N82 :P.
Sony Ericsson was other better option, but the poor service of Sony Ericsson in Nagpur (as seen in Paras's K550i ) Service peoples are the worst ever seen. Rest brands like HTC , O2, Blackberry well hardly seen a support centre. and cost according to features is pretty heavy.
Last Comes to Nokia (Back to the Same Nokia) Competition was still there between N95 and N82. Xenon Flash of N82 impressed me a lot. heres goes then snap of my Handset :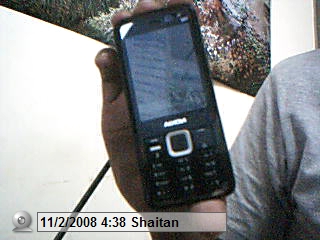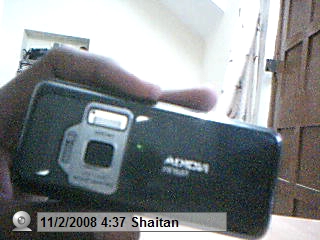 Images are really of poor quality since taken from my Web Cam
Finally a 5 mega Pixel Cam, Wi-fi, N-gage Game support, Dual Speaker, Cool Flash, Not Least an Symbian OS this is surely gonna take me back to learn python.  So its pretty assumed that my blog is gonna blow up with python and new symbian Tips and Tricks soon.