WOO !! the 560 Crores is a big amount, This exam was conducted by State bank of India , opportunity was for youngsters to enter the government banking sector . there are total 20000 openings with starting Package of 1,68,000 Rs. Total 2 crore 24 lacs youngsters Appeared for the  exam. that's all from Tarun Bharat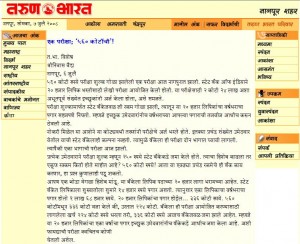 Salary for 20000 clerks for an year goes 336 crore. still a huge amount remain  to the bank( I can spend my life happily over the Interest of that amount ) !!
How the News Reporter Counted 560 Crore ??
Exam fee was 250 Rs. and total appeared 2 crore 24 lacs , so product comes to be 560 crore !! But Dear sir, ( Chota Muh aur Badi Baat ) This is India, there is done in equality. Huge number of youngster appeared for exam ( including me ) but how many of them were SC / ST / NT / OBC / General .  SC / ST and some other cast peoples were having exam fee of Rs. 50 only. so 560 crore is not possible. may this reporter count his whole salary without DA/TA/HRA/PF. Some Constraints are always there that should be think when writing on Front Page of print Media !!